About W.A. Thorpe & Sons
We supply the islands of St Helena and Ascension with food, homeware, hardware and anything else islanders may need or want.
We source from more than 200 suppliers from the UK, South Africa and the USA.
We have a large warehouse and several walk in fridges and freezers to ensure constant supply.
Renting flats and farming also form a part of our operations, but the import of groceries, hardware and homeware remains the core of our business.
History

William Alexandar Thorpe, born in Jamestown in 1842, started his working life at MacDonald's, a shop opposite the playground. Family legend has it that William sold fishcakes in the market for Mr MacDonald, making a small profit for himself as well, so that when Mr MacDonald left for England in 1860, William was able to buy him out.

St. Helena saw great hardship in the latter part of the 19th century with the opening of the Suez Canal and the departure of the Garrison which left to fight in the Zulu War. However William prospered, his business encompassed farming, trading, importing, supplying and owning ships, and shipping. His motto, painted on the shop windows, was SPQR which he interpreted as Small Profits Quick Returns.

William died in 1918 and was survived by ten sons and two daughters, some of whom remained to see the family firm through the next stage of its development. His third son Edwin Thorpe returned from London to run the firm, concentrating from 1922 on the production of flax. In 1959 he invited his nephew, Donald, to help run the flax mills. The industry collapsed five years later in the face competition from man made fibres, and recently doubled Government wages.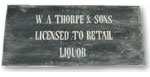 Donald and his wife Joyce rebuilt the farming and trading side of the business. Donald died in 1986 and the firm was then run by his sons, Nicholas and Michael.
In 2004 Michael retired and Nicholas established the company as a private limited company.